A few months ago I visited Ireland for the first time with my family. Instead of opting for the more expensive and much more popular Dublin, we set our sights on Cork in the south west of Ireland. I knew that there was a sense of rivalry between the two cities but I hadn't realised how strong this was. Our taxi driver from the airport asked whether any of us had been to Ireland before. My Dad and Sister replied that they'd been to Dublin to which the response was "Oh so you've never been to Ireland. Welcome to the real Ireland."
With such a short flight time from England, I'm surprised that Cork isn't more popular than it is. It's not a large city by any stretch of the imagination which means that you'll see plenty in a weekend with time to spare. More time to sample the local beers then.
Hopefully this post will make you think twice about your next weekend away and maybe, instead of choosing Dublin, you'll consider a trip to what's considered Ireland's true capital. To help you decide, here's my thoughts on the top things to do in Cork.
English Market
Slap bang in the centre of Cork lies one of it's most popular tourist attractions. The English Market dates back to the 1860's and has retained (though refurbished) it's original architecture. The entrance to the market, with it's vaulted ceilings is beautiful and it's easy to see why this is one of Europe's top covered markets. Inside you'll find plenty of artisan products ranging from cheese to cured meats, fresh fish to oriental spices. The best thing is that there are plenty of tasters to keep you going between meals.
Farmgate Cafe
Upstairs on a mezzanine level in the English Market is Farmgate Cafe. We headed here immediately after dropping our bags off at the hotel for a late breakfast. At the top of the stairs leading up to the cafe, you can head either right or left. To the left is the more formal restaurant and to the right is a more relaxed cafe area. It's a great place for a scone or an Irish breakfast!
Saint Fin Barre's Cathedral
Now I'm a guy that's well-versed in fantastic cathedrals.  I've lived in Lincoln, York and Durham.  All three of which have some of the most beautiful cathedrals in not only the UK but the world. Whilst Cork's addition to my ever-growing list of visited cathedrals might not be on the same scale (nor as old – this was completed in the late 1800's) as those in the cities mentioned above, there is something certainly special about Saint Fin Barre's cathedral.  It's quite small but the architecture is stunning from every angle.  It's €5 to enter and I'm sure it's just as beautiful from the inside.  For some reason, we just didn't find time to go inside.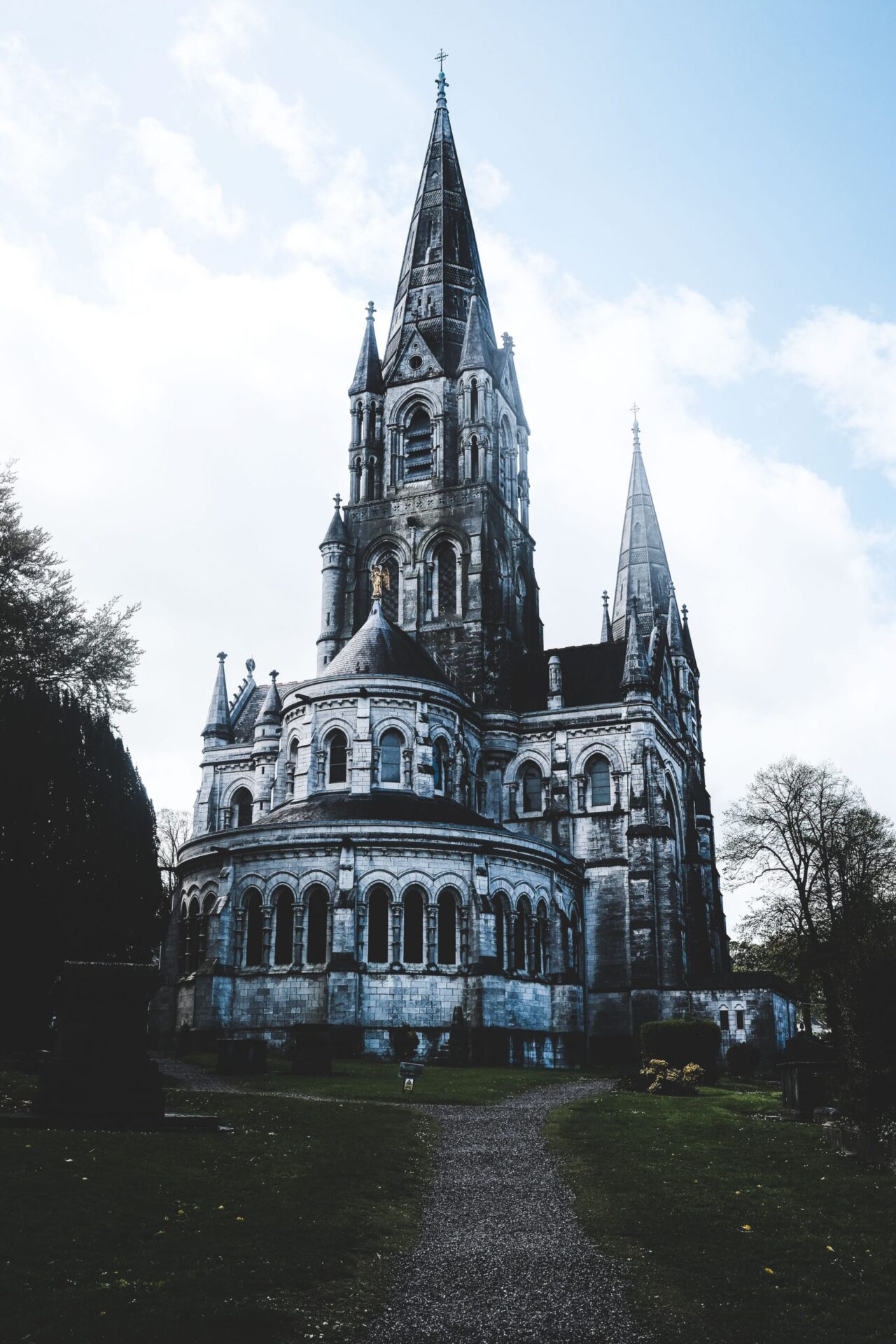 Shandon Bells & Tower
In my opinion, the best view of Cork is to be had from the top of the 120 foot tower at the Church of St Anne. Now, it's not an easy climb to the top and you have to practically clamber mere inches away from the (rather large and loud) eight bells but it's absolutely worth it. The perfect place to get your bearings and get acquainted with this city. On your way back down, do not miss an opportunity to become a bell-ringer. I'm not sure I'll be called up to show my skills down at St Paul's in London but I somehow managed to ring out a rendition of Amazing Grace for all of Cork to hear. There are a few different songs with instructions on how to 'play' but worth noting my attempts probably couldn't have been recognised by anyone else.
Oh and for you eagle eye viewers, that's an seven foot gold salmon right on top of the tower. See what I did there?
Cork City Gaol
Nope, this isn't a castle. This is Cork's 19th century jail (or gaol if you're old school). I'm not normally one for visiting many museums on city breaks unfortunately. I wish I was. For the first half an hour I'm probably quite interested but I eventually just lose interest and wander right back towards the exit.
Not here though, it's quite cool to see what the prison looked like back in the day and the stories of those that were unfortunate enough to be sent behind bars. There's also a radio museum which is worth your time.
Franciscan Well Brewery
I love seeking out local brew pubs whenever I visit any new city and thankfully my Dad found this gem situated just across the river in Cork. It boasts a large beer garden and plenty of craft beer flowing fresh only metres away from their origins.
If I remember correctly my beer of choice was the Archway Lager which was lovely. I also enjoyed but Chieftan IPA which is some praise coming from a man who can pretty much only drink a pilsner. I wasn't a fan of the stout but that's just me. It is something though that you should try whilst in Cork; perhaps a Beamish or a Murphy's, both of which are considered by locals to be better than Dublin's offering of Guiness. Also, for those who get a bit peckish, there's woodfired pizza in the beer garden.
Market Lane Restaurant
Situated on Oliver Plunkett Street is one of Cork's top restaurants. I like food; there's no doubt about that. I'm a burger man through and through and I'm not normally bothered about fancy restaurants. Market Lane is upmarket with incredible food but without the price tag to match. I found that the prices here were no more expensive than for your standard pub grub. I had steak which was cooked to perfection (medium rare if you're asking) and I'm told the sea bass was faultless too. I tried some of the slow cooked bacon collar with a mustard glaze which, if I ever return to Cork, will be my dish of choice!
Not only is the food top-notch, I was really impressed with the beer. Again, sticking to the local beer, the Elbow Lager is brewed just next door in their sister-smokehouse's nano-brewery. I'm not sure what the difference is between a micro and nano brewery but the beer was lovely nonetheless.
Now there are probably plenty of other things to do in Cork but, for a short weekend away, I find it best not to pack your itinerary full to the brim.  I always find that wandering the streets allows you to experience a city on a slightly deeper level. You'll stumble upon local bars, local cafes and no doubt you'll come across street art with subtle undertones that will leave you with more questions than answers.  Not that that's a bad thing; you'll just have to book a return trip as soon as you arrive home.
For all of the colour images in this post, I used my Fujifilm Classic Chrome in-camera setting which you can read more about here.  To see more pictures, just keep scrolling…
Make It Happen
We flew with Ryanair from the John Lennon Airport in Liverpool and we were literally making our descent as soon as we'd had a drink! The price as always with Ryanair was cheap and their flights aren't as bad as we've come to expect. In terms of hotels, we stayed at the Clayton Hotel which was only a five/ten minute walk from the centre.  Perfectly quiet at night and the view across the river is lovely.  I'd highly recommend it.
If you liked 'The Top Things To Do in Cork, Ireland' why not pin the images below?
MORE PHOTO INSPIRATION OF CORK
Please note that some links across this blog are affiliate links.
If you go onto purchase something through these links, I may receive a small commission at no extra cost to you.
If you enjoy what you've seen, you can buy me a coffee or a beer here.