In 2019, I spent a few weeks in Orlando and loved visiting Universal Studios. Everything from the rides, the vibes and the photo opportunities meant that this was my favourite park in Orlando. This helpful guide brings together my favourite photo spots at Universal Studios Orlando so that you too can capture the best memories possible from your trip of a lifetime.
---
Any trip to Orlando in Florida would not be complete without visiting Universal Studios. Whilst you have to fit in Walt Disney World, for those of us pushing 30 (okay, pushing 31), Universal Studios is the much better option. With two parks connecting by the Hogwarts Express, you'll find extreme rides here including the Hulk and the Rip Ride Rockit as well as incredible 3D rides like Transformers. Not only are the rides out of this world, the parks are full of quirky and interesting photo spots and this is the only guide you'll need for my favourite photo spots at Universal Studios Orlando. Whether you're simply looking for a little travel inspiration or planning on capturing some incredible photos, this is the post for you.
My style of photography, as you'll see, isn't quite as expected from the typical holidaymaker. I'm still a point and shoot sort of guy but I'm always on the look out for the cool and quirky, nice details and great lighting. I can't always guarantee that I'll find the perfect light or the perfect location but I hope you love my blend of travel and street photography.
If you're hoping to see plenty of portraits, you'll be disappointed – no-one needs to see me in front of the lens! Well you'll no doubt see part of my arm and hand, holding up food or drink but that's the most you'll get.
---
THE BEST PHOTO SPOTS AT UNIVERSAL STUDIOS ORLANDO
---
Universal Studios Orlando Globe
The first on any list of photo spots at Universal Studios has to be the huge revolving globe at the entrance to the park. Wait for the perfect moment and you'll get the full Universal in your photo, hopefully without the many people planning on taking the same photo!
Yellow Taxi
As soon as I walked into the park, I was in awe and just so happy. I'd been a little underwhelmed at the Disney parks but here, within seconds, I knew it'd be my favourite park.
Immediately after entering the park, you'll come to a classic 1950's (?) yellow taxi that just lends itself to great photos. Either up close for detail shots with a wide angle lens or as a backdrop for portraits
Springfield
The home of the Simpsons is a great fun area in Universal Studios where you can drink Duff beer at Moe's Tavern, grab fried chicken at Cletus' Chicken Shack and wander the Springfield streets as though you're the next Bart Simpson.
In general, you'll want to keep an eye out for graffiti and signs both of which make great photos as well as the buildings themselves. As expected at Universal Studios, the thought that has gone into the design here is incredible.
Lard Lad Donuts
Two photo opportunities present themselves here. Firstly, grab one of the Lard Lad donuts which are guaranteed as big as your head, hold it in front of your head and there you go, a photo you'll never forget. The second is of Mr Lard Lad himself (presumably his name?) holding up a huge doughnut above his head.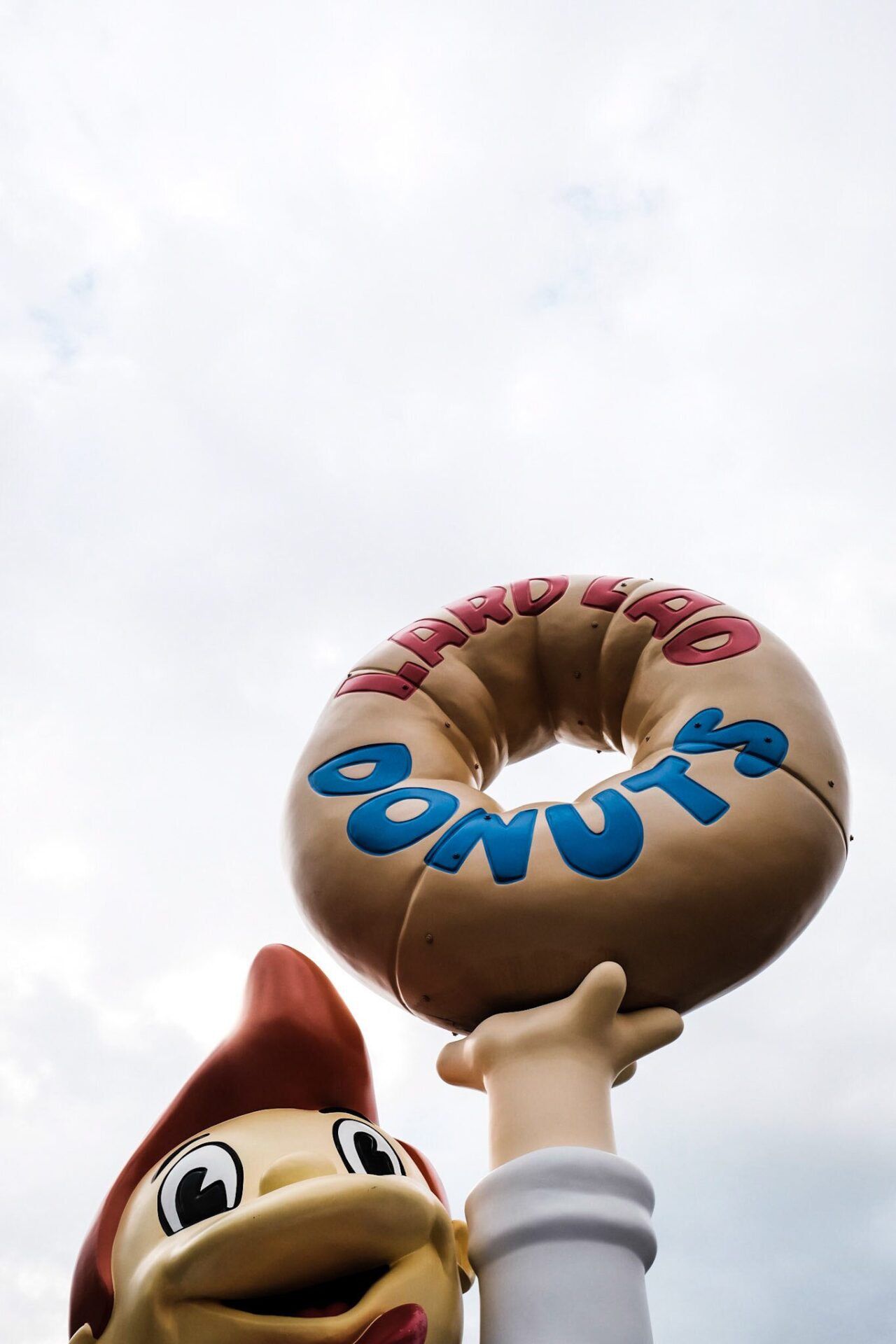 Krusty Land
Before joining the queue for the Simpsons ride and before you return pale in colour feeling sick, the huge Krusty face on the front of Krustyland is one of my favourite spots. You could definitely use Krusty as a background for portraits or just straight up take one of his face.
Hogsmeade
This snowtopped Harry Potter themed village is in the Islands of Adventure Park with the huge Hogwarts Castle as it's showpiece. Whilst the Hogwarts Castle might take all the glory, this village has such classics as the Leaky Cauldron pub, Honeydukes sweet shop and another outlet of Ollivanders' wand shop.
If you have a park to park ticket, you'll be able to make your way between the Harry Potter worlds (Hogsmeade and Diagon Alley) via the real life Hogwart's Express train which deserves a few photos itself.
Honeydukes
Whilst in Hogsmeade, you have to go in Honeydukes where all the wizards and witches get their sweet fixes from. I'm quite sure that a photo of the cool sweets counts as a souvenir if you don't fancy splashing the cash. There was one thing however I couldn't resist buying and that was a chocolate frog. I'll admit though whilst the chocolate itself was disappointing (damn you America) the packaging more than made up for it. This is why a photo might have done just as well.
Hogwarts Castle
Hogwarts Castle is the showstopper of the Wizarding World of Harry Potter and you'll struggle to miss it whilst in Hogsmeade. Head towards the back of the Hogsmeade for great photo opportunities on the bridge towards the Jurassic Park section or, right when you enter Islands of Adventure, you'll see Hogwarts Castle in the distance across the lake.
Butterbeer
You have to try Butterbeer at the Wizarding World of Harry Potter. Whether normal or frozen, this cream soda is actually not bad as a drink to cool down on those sticky Florida days. You have to grab a shot of your Butterbeer which is pretty much customary if you're visiting the park.
If you can get a shot of a Butterbeer cart too then you've completed this challenge!
Diagon Alley
This is one of the highlights of the Harry Potter themed world. Magically recreated inch by inch, this street and those that lead off it are perfect for photos. I even managed to get a few portraits in of Emma too. For the hardcore Harry Potter fans, here you'll find Ollivander's Wand Shop, Weasleys' Wizard Wheezes as well as Florean Fortescue's Ice Cream Parlour. Even the shops that you can't enter and are for decorative purposes only are great to stare into the windows and grab photos of.
Gringotts Bank + Dragon
Diagon Alley leads straight to Gringotts Bank where you'll find a brilliant ride through the bank's vaults but also a place that is perfect for photos again. Any photo of Diagon Alley is likely to include Gringotts Bank as the main subject but pay particular attention to the huge dragon on top as, every fifteen minutes, a huge fire ball will erupt as those he is breathing fire!
The Knight Bus
Before you make your way to Diagon Alley, make sure you stop off at the Knight Bus for obligatory photos both from the front and round the back!
The Hulk
First things first, you should ride this ultimate rollercoaster. Probably the best I've ever been on. I'd probably say that about most of the rides at Universal Studios though to be fair.
Head past the rapids in Toon Lagoon for the best view of the Hulk from across the lake or get up close and personal under the rollercoaster.
New York City Neighbourhood
Universal Studios has a few areas inspired by American cities; Hollywood and San Francisco yet it's the bright lights of New York that lend itself best for photographs especially street style. For a second, you could imagine that you've been transported straight to the Big Apple given how good the recreations are here.
Mel's Drive In Diner
I love a good 1950's American diner and would love to visit an original one away from the tourist areas in America. However, this more than makes do with a classic design and beautiful cars parked up outside. Inside, you've got a have a milkshake because presumably it would be rude not to? Don't worry if you haven't got time, I didn't have chance either.
Jaw's Shark
Gone is the Jaws ride at Universal Studios, replaced by Diagon Alley but the iconic hanging shark has been relocated to the San Francisco area. Make sure you get a photo with Bruce perhaps even one where you're hanging from his mouth…
Toon Lagoon & Marvel Superhero Island
Ripped straight from a comic book strip, both Toon Lagoon and the Marvel Super Hero Island are full of iconic characters. From Popeye to Betty Boop to pop-art superheroes, these areas are full of photo opportunities as usual.
Toothsome Chocolate Emporium
This restaurant on Citywalk just outside of Universal Studios is the perfect combination of Charlie and the Chocolate Factory and Steampunk. We visited late at night for great food, milkshakes and lots of chocolate and it was absolutely incredible. Yes I felt sick and yes I couldn't get to sleep thanks to the sugar coursing through my veins but both the building itself and the food is photo worthy.
Bonus Photos
Just in case you needed any more inspiration, here are some more photos of Universal Studios Orlando for your viewing pleasure.
CHECK OUT MORE OF MY ADVENTURES IN THE USA BELOW
If you loved 'A Guide to My Favourite Photo Spots at Universal Studios Orlando' why not pin the images below?